GUIDELINE SUBMISSION In OCS SYSTEM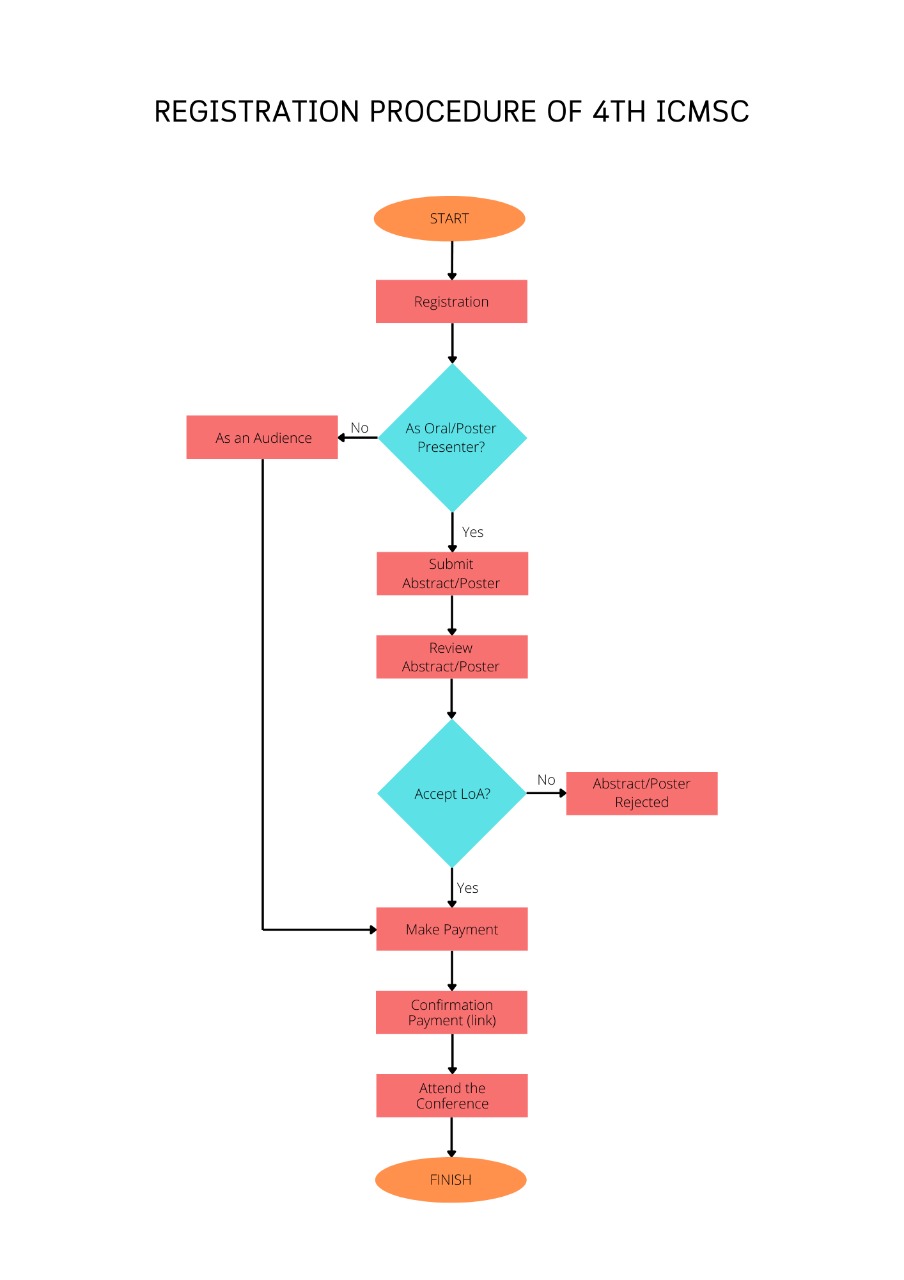 To submit abstracts and full paper can be done directly on the website conference.fmipa.unmul.ac.id. If you find any difficulty with our system in the process of uploading abstract and full paper (after abstract is accepted) then we provide some steps below:
STEP ONE
1. Please access the website http://conference.fmipa.unmul.ac.id and start "REGISTRATION" to get username and password for new member in this website. IF you already join our previous conference, please follow to directky to number 2 below.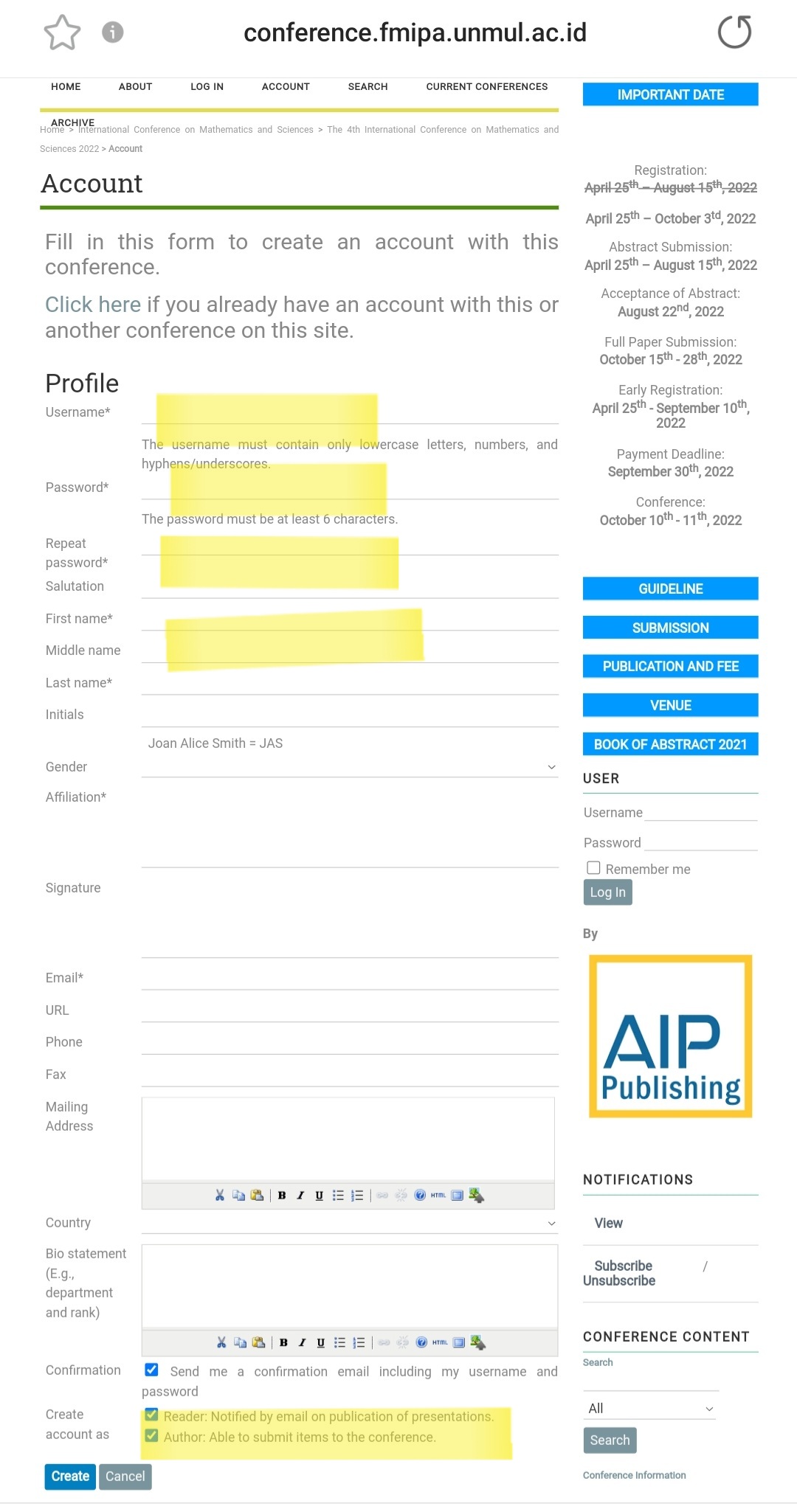 2. Click menu "SUBMISSION" in the right side and then fill in the username and password that has been filled in the registration process. For Author, do not forget to check the "Author".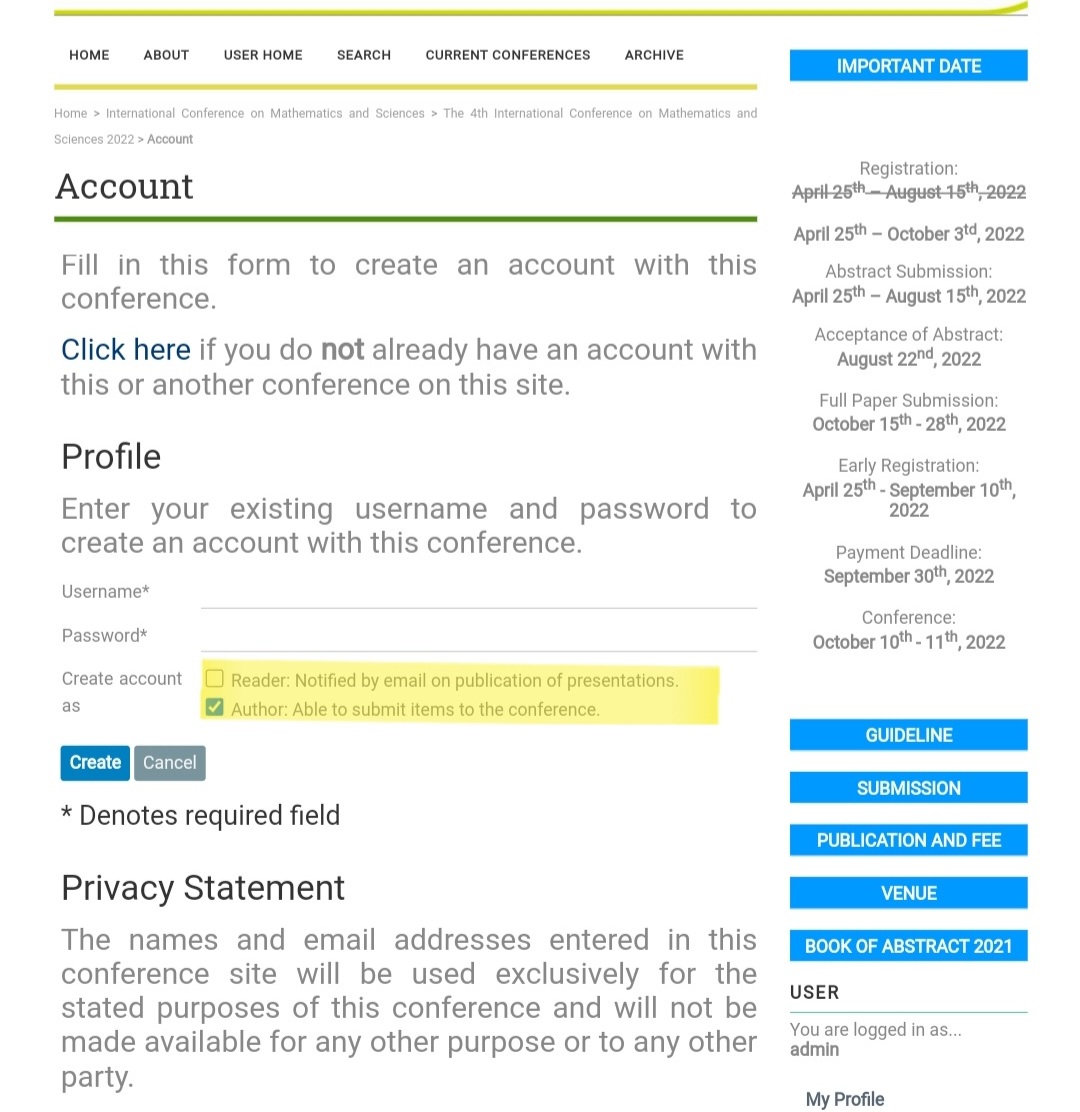 3. When it has been logged in, will be redirected to the main menu where it says "Author" and please click "NEW SUBMISSION"

4. Select "CONFERENCE TRACK" in accordance with the articles you have.
5. Select Sessions you choose to follow the "SESSION TYPE"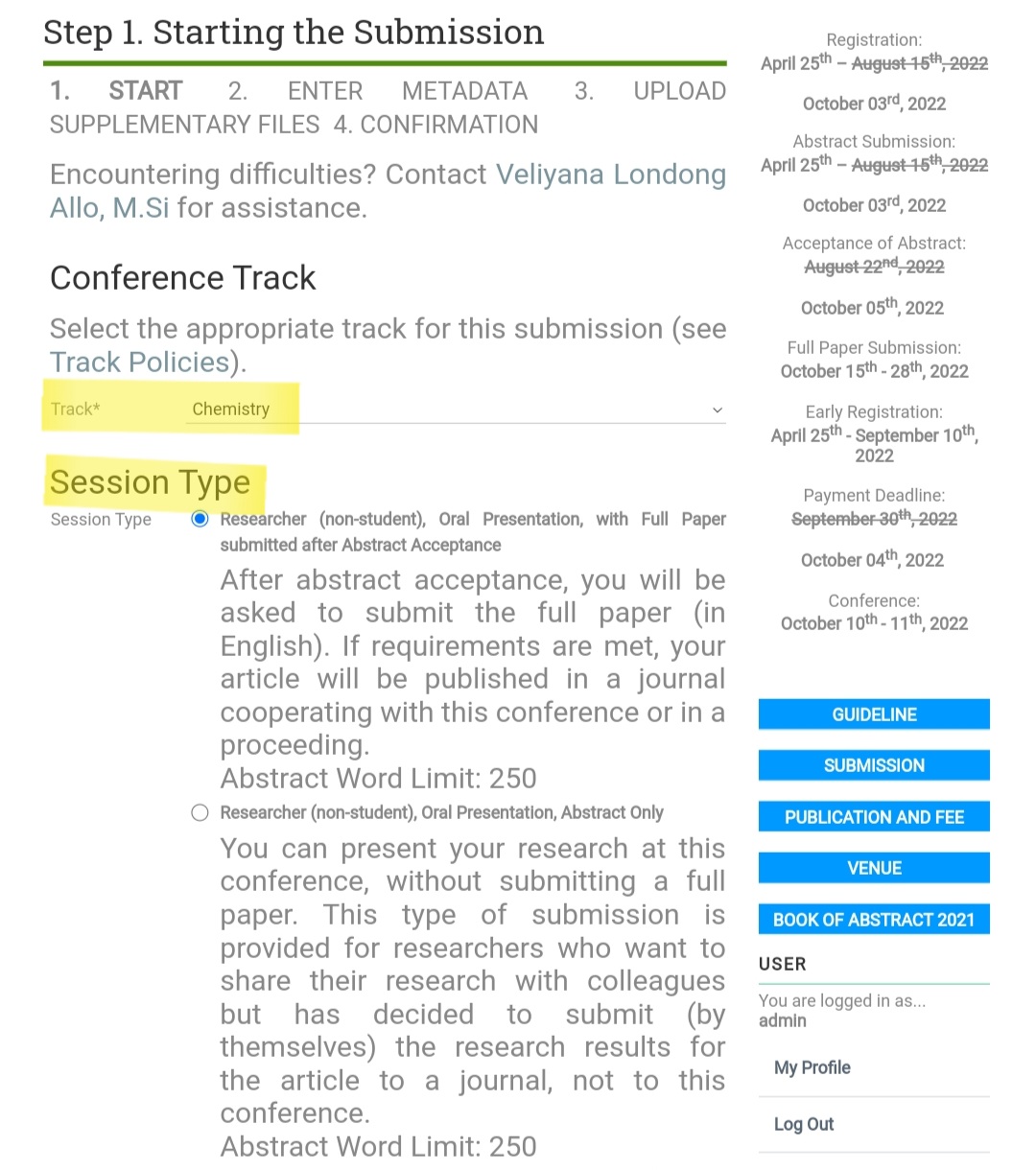 6. Check the entire "SUBMISSION CHECKLIST"
7. Then click "SAVE AND CONTINUE"
STEP TWO
1. Fill Biodata author, If the author more than one please click "ADD AUTHOR"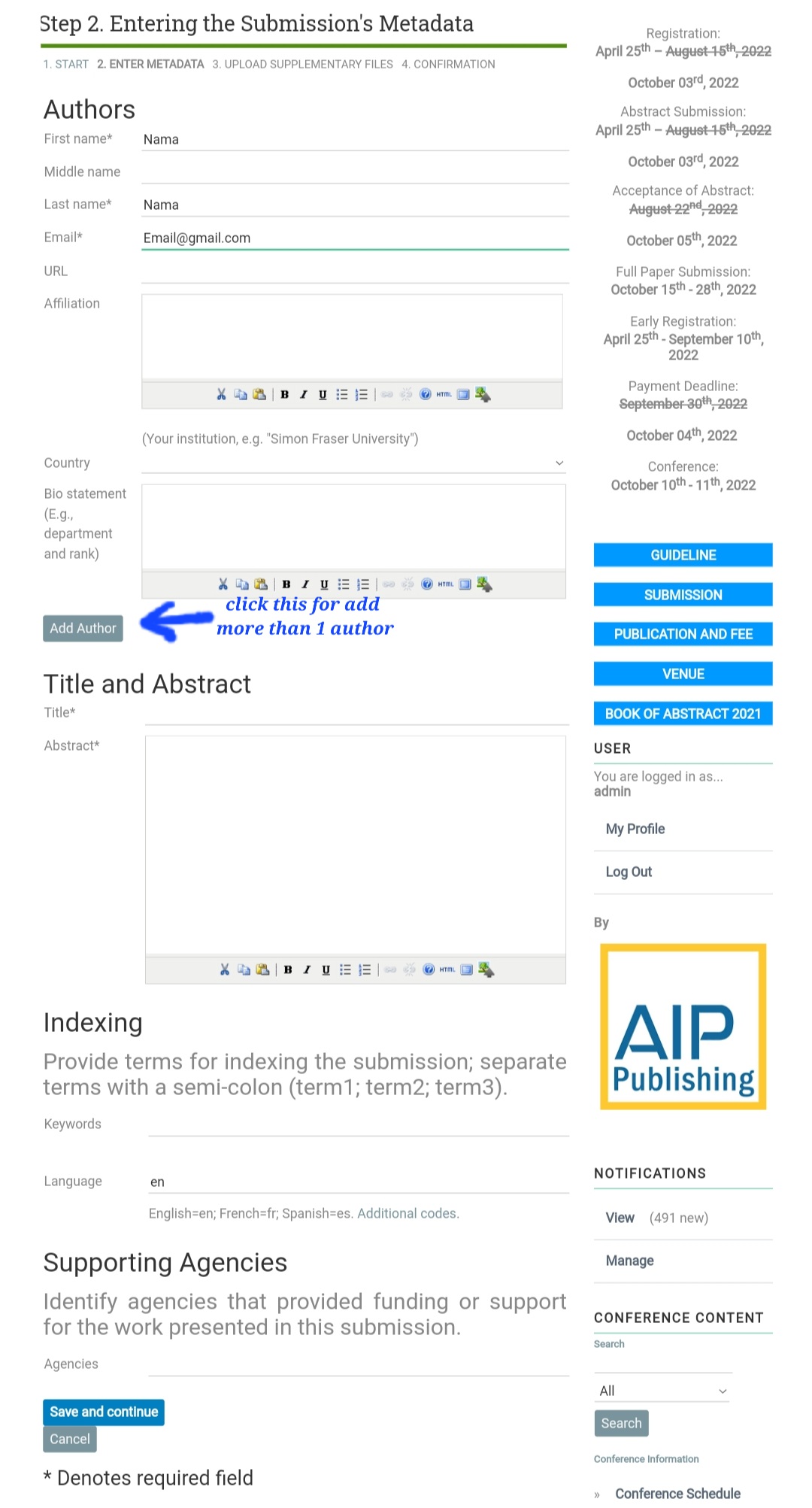 2. Fill in the Title and Abstract (max 200 words) articles that will be submitted in the available column along with indexing (keyword articles) and Reference
3. Then click "SAVE AND CONTINUE"
STEP THREE
1. Upload Supplementary files by clicking "Browse" and select the file to upload
2. Click "UPLOAD"
3. Then click "SAVE AND CONTINUE"
Note: Supplementary files are usually attached to research or related data. If none please empty and immediately select "Save and Continue"
STEP FOUR
1. Then check the data that has been filled
2. click "FINNISH SUBMISSION"
Note : Remember your ID Submission
Please wait and the reviewer team will soon review the article. Please check the account periodically. thank you
GUIDELINE for ORAL PRESENTATION
The oral presentation criteria :
Maximum PPT 10 Slide

Slide must be In English

Certificate will only be given to the Author Presenting the paper

Abstract max 200 word
Please send soft file of PPT SLIDE by October 09, 2022 to icmsc@fmipa.unmul.ac.id with Subject "FILE CONFERENCE ID PAPER"
GUIDELINE for POSTER TEMPLATE
Poster size is 70 cm (width) x 90 cm (Height)
The Poster includes :
Title max 20 words

Authors and Affiliations

Corresponding Author

Abstract max 200 words

Keywords max 5 words

Introduction (in Paragraph or Scheme)

Methode (Scheme)

Results (Only Table, Graphics, Figures)

Conclusions

Acknowledgment

References (Primary ref)
Committee will facilitate to print out the POSTER with no charge additional with following requirement:
Please send soft file of Poster in JPEG/JPG by October 06, 2022 to icmsc@fmipa.unmul.ac.id with Subject "FILE POSTER ID PAPER"
GUIDELINE SUBMISSION for FULL PAPER
When preparing your manuscript for AIP Conference Proceedings, please abide by the following requests:
Do not add page numbers or headers/footers.
Do not alter the margins of our templates.
Paper size is 8.5 x 11.
The paper must include the author name and full affiliation address including country.
Use clear, legible graphics and diagrams contained within the margins.
Do not use copyrighted material without permission and proper crediting.
All pages are to be in portrait.
References are prepared using our sample reference guidelines (available in the template package). References can only be linked if they are complete.
Embed all fonts into your manuscript PDF.
What to send to your conference organizer
A final PDF file of your paper with fonts embedded.
Copies of permissions to re-use copyrighted material.
This work is licensed under a
Creative Commons Attribution 3.0 License
.